The QuitSmart Stop Smoking Kit includes an informative guidebook, a relaxing hypnosis CD, and a patented cigarette substitute.
25% off and FREE Shipping

when you enter Coupon Code

25offkit

. Limit: 1 Kit. Offer expires 12/31/2017.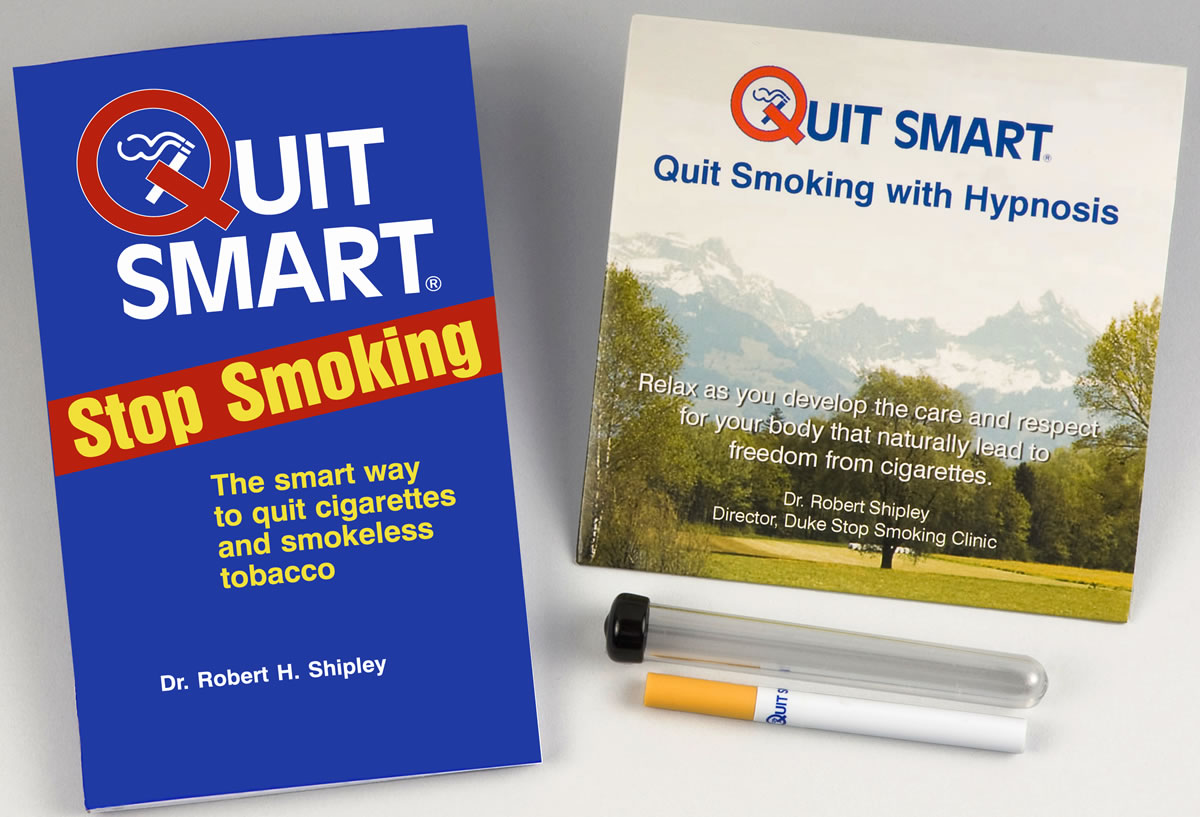 QuitSmart Stop Smoking Guidebook
The founder of the Duke Stop Smoking Clinic reveals new ways to use nicotine patches, gum, and lozenges to dramatically improve your chance of success, or choose to quit without nicotine medicine using Dr. Shipley's brand-switching method to gradually wean off nicotine. Other sections include: Smokeless Tobacco, Electronic Cigarettes, Caffeine, Urge Surfing, Habit Buster Tips, and Weight Control.
QuitSmart Stop Smoking Hypnosis CD
The deep melodic voice of Robert Conroy helps you relax and use the full power of your mind to become a calm, comfortable nonsmoker. There is no magic; you remain in control. The first week you listen to the 15-minute Quitting Smoking track. The next week you listen to the track: Remaining a Nonsmoker.
QuitSmart Cigarette Substitute
The simulated cigarette lets you keep many of the pleasures of smoking. Take deep relaxing draws through the adjustable filter, as you enjoy the realistic feel of the substitute. A carrying tube keeps the Cigarette Substitute clean and handy.
What ex-smokers say about the QuitSmart Stop Smoking Kit
I was a three-pack-a-day smoker for more than 50 years but have been smokefree for more than four thanks to QuitSmart. Before QuitSmart, I went to a doctor who was an expert in using acupuncture methods, several courses on eliminating smoking, a psychologist, a chiropractor, a medical doctor, and, lastly, a hypnotist. None worked until this program. To have an addict give up his drug is close to a miracle.
—David Norris
I used the QuitSmart system to quit smoking almost 6 months ago. I watched my father die of lung cancer in May. It took me 3 more months to decide to quit. The QuitSmart Kit made it a lot easier!! The amazing thing is I don't want to smoke anymore. If you would have told me that when I was a smoker, I don't think I would have believed it.
—Wendy Jacobson
Hurrah for the QuitSmart kit, and hurrah for me for having the good sense to get one and follow the program to the letter. I have been a non-smoker for nine months. My message is, if I can quit smoking (I loved to smoke), anybody can.
—Jackie Herring
I have loaned my QuitSmart guidebook to four people. I know that at least three of them successfully stopped smoking. The fourth disappeared with my guide.
—Muriel Haber
What Professional Reviewers say about the QuitSmart Stop Smoking Kit
It is hard to say which of the three kit elements I enjoyed most.
The QuitSmart Stop Smoking Kit is easy to use, interactive and informative… I enthusiastically recommend the kit.
Dr. Robert Shipley, director of the prestigious Duke University Quit Smoking Clinic, has come up with a tool to help people through the struggle. …The appealing prose, cartoons, and charts make for engaging reading.
The QuitSmart Stop Smoking Guarantee
We guarantee that you will successfully quit smoking
with the QuitSmart Stop Smoking Kit.
If you do not quit, return your stop smoking kit within three months of purchase for a full refund. You have nothing to lose, and your health and freedom to gain.
Need more than the Stop Smoking Kit?
Locate a Certified QuitSmart Stop Smoking Leader near you!
Search